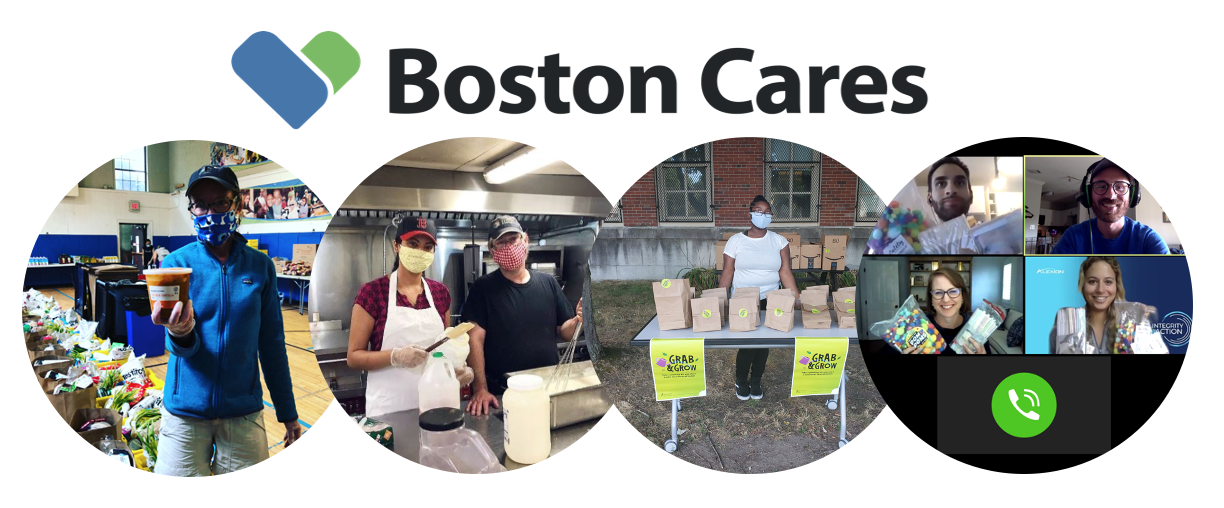 To donate by check, please mail to: 10 City Sq, 6th Floor, Boston, MA 02129
For questions, please contact Sara Hamilton at shamilton@bostoncares.org or 617-422-0912
---
After 2020, I doubt few of us imagined we'd still be here in the pandemic, reflecting on another unprecedented year. So many people in the Boston area have been impacted by the pandemic in a direct and personal way, including our volunteers and community partners. The strength and courage that has been displayed from our community—from our essential workers, teachers and administrators, and our nonprofits—has shown that we are stronger together. At Boston Cares, we've focused on the crucial needs of our community during this time, like food insecurity, homelessness, and serving the health and wellness needs of those most vulnerable.
We've partnered with new organizations and expanded our community reach, with 30% more service projects in need of volunteers than 2019. And volunteers have risen to the challenge: we saw the highest number of new volunteers join Boston Cares in 10 years.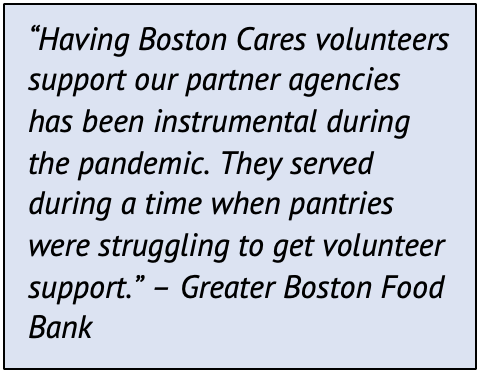 Beyond continuing to provide our community partners with vital support from volunteers, we are continuing to make our organization stronger by advancing diversity and inclusion through policies to diversify our board and staff and educating ourselves around social justice issues. This year, we partnered with the Minnesota Alliance for Volunteer Advancement (MAVA) to provide a series of fundamental trainings for our volunteers and community partners focused on bias, equity, and inclusion in the volunteer space. Boston Cares is committed to helping build racial equity in Boston and to grow as an organization that reflects the community we serve.
Through all of this, we were thrilled to take a moment to celebrate our 30th anniversary virtually with our volunteers, corporate sponsors, community partners, and a few celebrity guests. If you couldn't join us, you can still catch the show at youtube.com/bostoncares.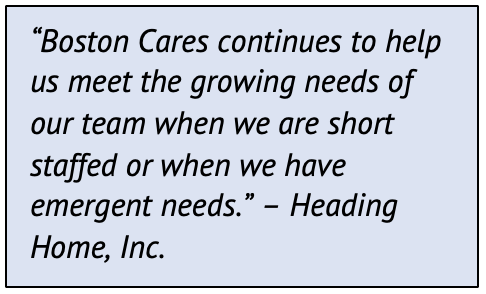 As we look toward 2022, we're looking forward to a return of more in-person events and service projects as health and safety protocols evolve, while continuing to offer our virtual projects for inclusive service. Through strong partnerships, a growing corps of volunteers, and supporters like you, Boston Cares will continue to thrive and respond to the growing needs of our community.
Will you consider continuing to support Boston Cares with a donation this year? Your donation to Boston Cares has a ripple effect throughout Greater Boston, as organizations rely on our volunteers to help address food insecurity and homelessness, close the economic and educational opportunity gaps, and build a stronger, more vibrant community for all.
Thank you for supporting Boston Cares and we wish you all the best for a happy and healthy holiday season.
In Service,
Sara Hamilton, Executive Director