Patrice Keegan is leaving Boston Cares, to be succeeded by Sara Hamilton
12.14.18
Patrice Keegan, longtime executive director of Boston Cares, will be stepping down on February 20, 2019. Keegan, whose leadership established Boston Cares as Greater Boston's premiere innovator of community responsive volunteer initiatives, will be succeeded by Sara Hamilton, Boston Cares' Deputy Director.
"Over 15+ years Patrice has built Boston Cares into a strong and trusted organization that has delivered over a million hours of volunteer impact for nonprofits and schools that rely on us to help fulfill their missions," said Rob Jeffers, Chair of the Boston Cares Board of Directors. "Her leadership has been a game-changer for how people volunteer on their own time and with their companies, which has made an enormous difference for the thousands of people in need who've been served by those volunteers."
Keegan has also anchored Boston Cares' work within the Points of Light Affiliate Network, a legacy of President George H.W. Bush that transcends politics and borders to inspire millions of volunteers worldwide. She is a past member of the Points of Light Board of Directors and currently serves as a member of the Points of Light Affiliate Assembly.
Keegan commented, "It's been the honor of a lifetime to build up Boston Cares and, in doing so, to ramp up volunteerism in our region and contribute to a larger volunteer movement across the country. Our mission driven staff, volunteers, and partners are magnificent; and the difference they make year after year to thousands of Greater Bostonians is breathtaking. Sara Hamilton has been a huge part of our success and I am excited to pass the baton to her as Boston Cares' next leader."
Moving forward, Keegan will be expanding her Senior Fellow role with Boston University's Nonprofit Management & Leadership Program, where she has led a Practice Seminar for the past few years; and she will also to continue to support area nonprofits as an interim executive director.
Sara Hamilton joined the Boston Cares team in 2010 and brings over 15 years of experience in the volunteer engagement field. She began her career with fellow Points of Light affiliate, Chicago Cares, after developing a passion for volunteerism as a student at Boston University.
In the wake of Hurricane Katrina, Hamilton headed to Biloxi, Mississippi to build programs, oversee volunteer housing operations, and launch a major AmeriCorps initiative for HandsOn Gulf Coast, a disaster response program of Points of Light. She also managed co-curricular service programming at Northeastern University, where she earned a master's degree in nonprofit management.
At Boston Cares, Hamilton has grown the organization's corporate engagement programs; piloted new strategies for hard-to-fill volunteer needs such as ESOL tutoring; and launched initiatives to expand youth & family volunteerism, recognize the accomplishments of foreign-born volunteers, and engage volunteers around unique challenges such as building beds for families transitioning from shelters.
"When I first moved to Boston almost 20 years ago, I got to know the city by volunteering, and found a passion I've been fortunate to build into a career. I'm thrilled to be named Executive Director for an organization that is an innovative leader in volunteerism, and an integral part of Boston's rich social sector. I'm excited to continue working with our Board, staff, volunteers, and partners to grow Boston Cares' impact and lead the organization in its continued service to the Greater Boston community."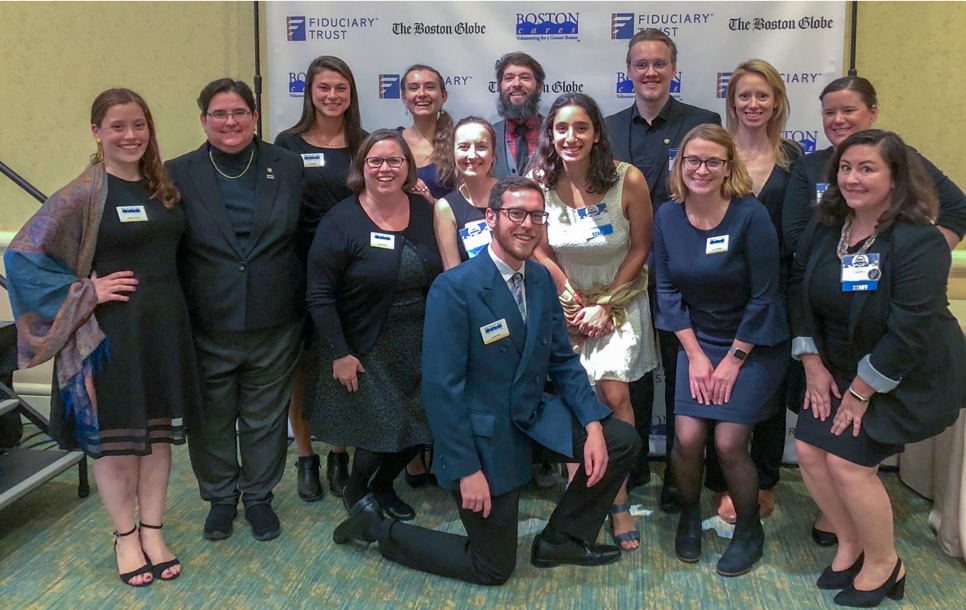 Boston Cares Staff, October 2018
About Boston Cares: Boston Cares mobilizes and trains individual and corporate volunteers who strengthen communities and improve the lives of people in need. Our year-round programs & seasonal service events engage 11,000 adults, children, teens & corporate partners who annually serve 70,000 hours at almost 200 schools and nonprofits primarily in Greater Boston and eastern MA communities. Our volunteer impact areas include hunger relief and basic needs; adult education for non-traditional learners and English language tutoring for immigrants; and youth success. Boston Cares' Bed Project volunteers have built 1,500 beds transitioning to foster care and families moving from shelters into homes. Boston Cares is the largest volunteer agency in New England, an Innovation Hub within the global Points of Light Affiliate Network, and an award-winning leader in the volunteer engagement sector. Since 1991, our volunteers have generated over 1.1 million hours of service! Learn more at www.bostoncares.org.