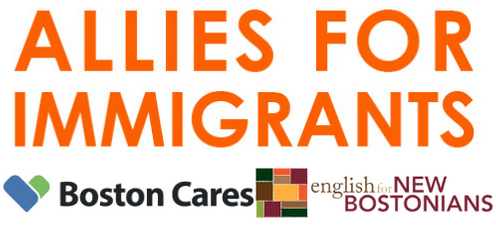 a partnership with English for New Bostonians, supported by the Cummings Foundation
---
Current Allies Volunteers - Click Here To Sign-Up for Classes

Who We Are
The Allies for Immigrants program is a volunteer program run in partnership with English for New Bostonians. The program prepares volunteers to tutor adults in English or help them prepare for the citizenship exam.
Why This Matters
Allies for Immigrants addresses the dual reality that ESOL classes are a gateway to economic advancement, social engagement and citizenship, and a strategy for Boston's workforce to be more equitable– yet our ESOL system cannot accommodate the need. In 2017, Boston Cares partnered with English for New Bostonians to boost citywide ESOL capacity via a network of well-trained volunteers. Since then, more than 600 volunteers have been trained to work with 2300+ ESOL students. Allies has proven critical to helping students gain skills and confidence and succeed with online learning with volunteers assisting with both in-person and virtual classes, and supporting conversation groups for small group practice.
Who You Are
Allies for Immigrants tutors are part of a network of volunteers who share a passion for enhancing English skills for adult learners. Volunteers must be 18 years or older to serve as a tutor. No previous experience is necessary.
What You Can Do
Tutors pick one site to serve at twice a month for the foreseeable future. They tutor adult learners in various roles which can include: one-on-one, small group leader, conversation group leader, or citizenship tutor.
Next Steps
1) The first step is to make a Boston Cares account. Click here to make an account!
2) After you make a Boston Cares account, attend a Boston Cares New Volunteer Orientation. Click here to sign up for a New Volunteer Orientation!
3) After you attend a Boston Cares New Volunteer Orientation, you can sign up for an Allies for Immigrants training. Sign up for our next Allies New Tutor Training here!
**If no training is currently scheduled fill out this form below and our staff will contact you with details on the next available training**
4) After attending the Allies New Tutor Training, all volunteers will need to complete and pass a CORI background check, then they will be paired with a partner site to begin tutoring!
Sites are listed below based on the type of roles volunteer tutors can expect to take on as a volunteer tutor. Depending on the site, volunteers may be expected to support their sites in a variety of ways - flexibility is key for this volunteer experience!
At the classroom sites, volunteers can expect to support mostly in the classroom as a volunteer teacher or classroom assistant.
At conversation group sites, volunteers will lead a small group of students to help them practice conversing in English.