A day on, not a day off
---
Boston Cares hosts New England's largest MLK Day Service event, engaging 700+ volunteers in service each January. Volunteers give back with family friends and neighbors to honor Dr. Martin Luther King's admonishment tha t "Everyone can be great. Because anybody can serve." MLK Day is always kid-friendly and open to youth 5+. All Boston Cares Days of Service are open to members who have registered with Boston Cares. You do not need to have attended an orientation.
WHEN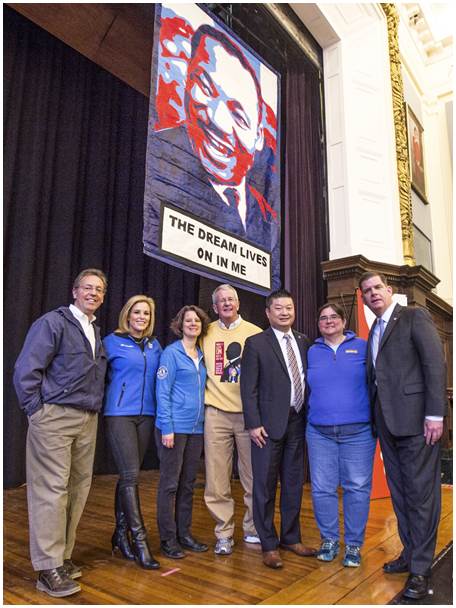 The Martin Luther King Jr Day of Service 2018 is scheduled for Monday, January 15, 2018. Check back here for more details!
HOW TO REGISTER
If you at least 15 years old and have Registered with Boston Cares, you may sign up and attend MLK Day on your own. All volunteers under 18 years old must bring a Permission Form signed by a parent or guardian to turn in at registration. Please email or call youth@bostoncares.org, 617-422-0910 x 208 with any questions.

If a family/group member is under 13 years old, first, please register and sign up any grou p members who are over 13. Then immediately email youth@bostoncares.org with 5-12-year-old participants' full names and birthdates (00/00/0000).

Groups of volunteers must sign up with at least 1 adult volunteer (age 18+) for every 3 youth volunteers (ages 17 and under).
If you're an individual and need help signing up click here.
If you're a family or group of less than 10 and need help signing up, click here.
If you're a group of 10 or more and need help signing up, click here.