The Boston Cares Bed Project
---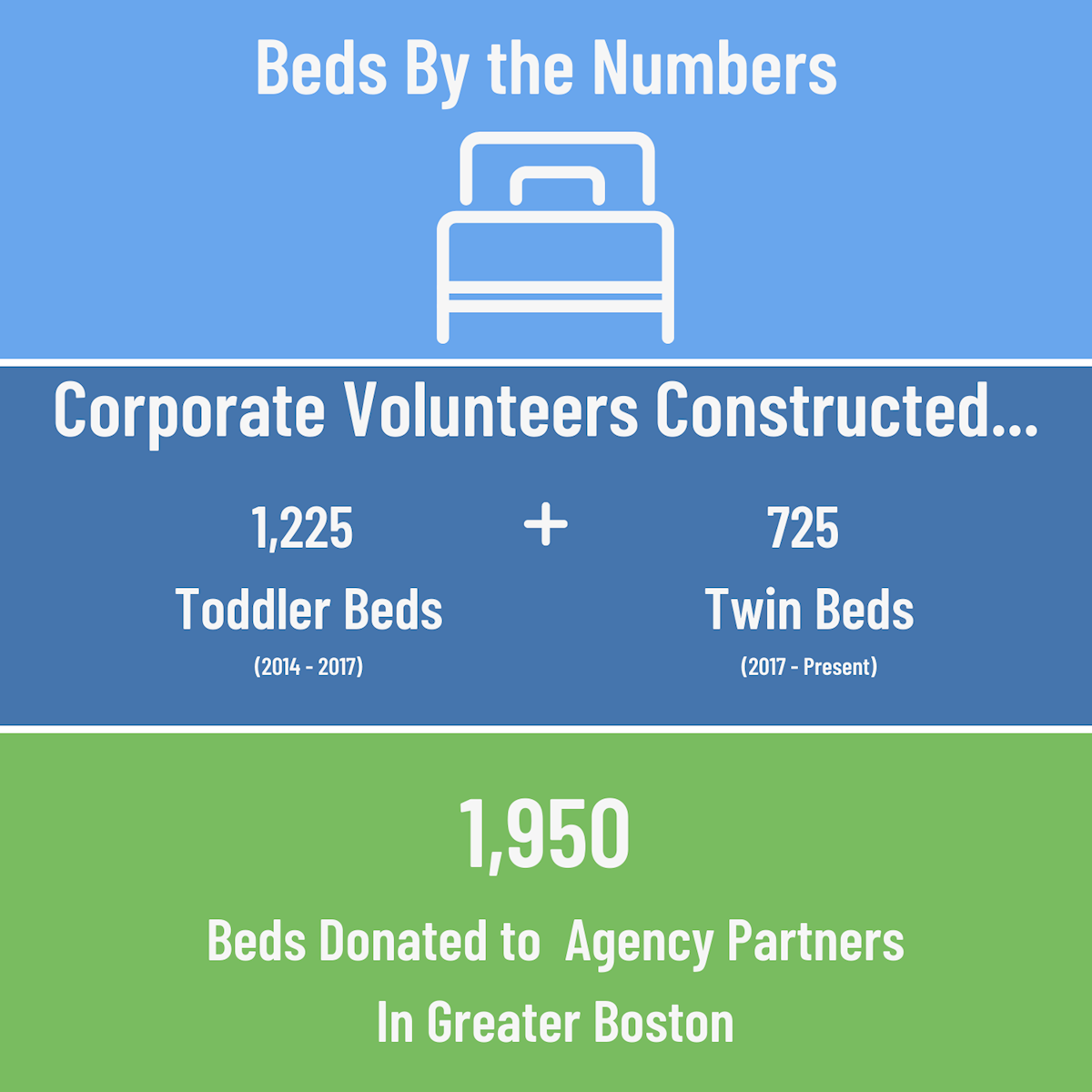 Boston Cares engages a variety of corporate groups each year in our signature Bed Project.
Volunteers serve together to build twin bed frames from start to finish. Once completed, these bed frames are donated to agencies who work with families transitioning out of homelessness.
It not only serves a need in the community, but also functions as a great activity to build staff and employee connection. Working in small teams, co-workers come together to sand, build, and paint their own bed frame. Boston Cares provides everything needed down to the last screw, and our staff is there to engage and help volunteers throughout the entire process. No previous construction experience required!
---
Why Beds?
This unique volunteer opportunity was first established when realized that children under 18 make up 60 percent of the 13,000 people experiencing family homelessness here in Massachusetts, and do not have access to their own beds when transitioning from shelters to new residencies. Studies find that children who do not have access to their own bed or sleeping space experience greater challenges in school, issues with lower self-esteem, and underdeveloped social-emotional skills. These issues can be addressed by providing families of the Boston area with a key component to ensuring a good night's sleep, a bed frame! This project offers fun, hands on experience to all volunteers with all levels of experience to give back to members of their community.
---
Nonprofit Agency Partners
The completed bed frames are donated to local nonprofit agencies who work with families transitioning out of homelessness.
If you are a nonprofit agency interested in learning more about becoming a Bed Project beneficiary or for immediate needs, please contact corporate@bostoncares.org or 617-422-0916
---
Featured Bed Build Events
Boston Cares Annual Holiday Bed Build:
Hosted each year in early December, the Holiday Bed Build gives corporate groups and individuals an opportunity to build beds to be donated to families in need. Check out our 2019 flyer for reference here: 2019 Holiday Bed Build Flyer
Boston Cares Annual MLK Day of Service Bed Build:
In partnership with the Mayor of Boston, Boston Public Schools, the Massachusetts Service Alliance, and with the support of corporate partners, Boston Cares engages 600+ volunteers each year at an MLK Day of Service event. Many of our corporate partners support this day of service each January by participating in a Boston Cares Bed Build.
---
Recognition & Media Coverage of the Boston Cares Bed Project
Thank you to the HandsOn Network for honoring us with the 2015 George W. Romney Affiliate Excellence Award for the Bed Project! This award honors the excellence and success of an Affiliate in making a meaningful difference through volunteering and service in their community. See the news here and on the Points of Light site.
"One of the most exciting things about Boston Care's Bed Project is that it can be replicated by our global network of over 250 affiliates, so they are not only helping children in Massachusetts, but around the world," said Alison Doerfler, executive director of HandsOn Network, an enterprise of Points of Light."
Dorchester Reporter "Boston Cares, Carpenters team up to build toddler beds" 10/30/ 2014
Boston Business Journal
"Boston Cares moves to bigger headquarters" 3/17/2015
Christian Science Monitor
"MLK Day of Service: Carrying his legacy forward by doing for others" 1/20/2014
CBS Boston TV, "Patrick, Walsh Speak At Boston's MLK Breakfast" 1/20/2014
---
Do you know a nonprofit agency interested in distributing beds to families in need? Please complete this survey!
Interested in engaging your team? Boston Cares can set up a Bed Build project for your company at one of our host locations, or even in your office parking lot. Please note that building beds does have a supply and project management cost.
FOR MORE INFORMATION, PLEASE CONTACT:
Kacey Sanfilippo




Associate Director, Corporate Engagement




617-422-0910

, Ext. 212




ksanfilippo@bostoncares.org
Boston Cares is a not-for-profit organization largely supported by corporate partners and private donations. We make it easy for your company team to volunteer by managing the entire process from project selection to onsite project assistance. Boston Cares offers corporate service projects on a donation-for-service basis, with contributions supporting project development and our year-round volunteering programs.