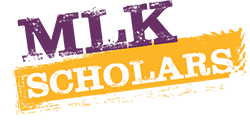 Boston Cares is pleased to join John Hancock, the Boston Globe, Partners Healthcare, Boston University, and Teen Empowerment to produce the 2018 MLK Scholars Program. The program will provide summer jobs in corporate and community settings for more than 600 Boston teenagers. As part of the summer experience, youth participants are required to attend bi-weekly personal development workshops, called the Mayor Menino Leadership Forums. These workshops incorporate teachings of Dr. Martin Luther King that will focus on youth success on the job, at school and in the community. Scholars will build meaningful relationships with other youth and volunteer table facilitators while learning life skills through guest speakers and interactive group activities.
How can you get involved?
Volunteers will work with the same group of 10 youth at the Friday Mayor Menino Leadership Forums, held at Boston University's Agganis Arena. Using a curriculum guide tailored to each session, mentors will engage the youth in conversation, interactive exercises and reflection on the weekly topic. Table facilitators will be provided with the curriculum in advance. We encourage volunteers to sign up for all 4 sessions, which allows for consistency and productive relationship building.
The sessions are: Friday, July 13th, July 27th, August 10th and August 17th
Join the Registration Team for the Menino Leadership Forums
Want to participate but table facilitation isn't your thing? Join us as a Registration Volunteer! Registration volunteers are essential to helping us greet, check-in, update attendance, and distribute materials for 600 youth Scholars.
Registration volunteers are needed on July 13th, July 27th, August 10th and August 17th from 8:15am-10:00am. Volunteers are encouraged, but not required, to make a multi-week commitment. All registration volunteers receive a complimentary breakfast.