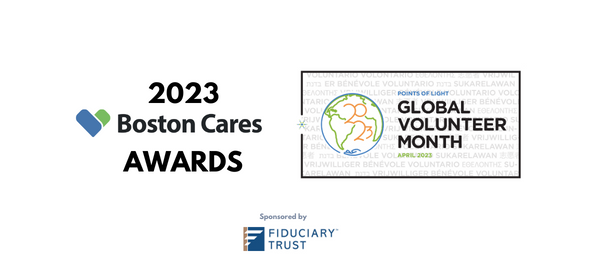 Global Volunteer Month 2023!
Spring into Service this April with Boston Cares for Global Volunteer Month 2023! As a long-time leader in their global volunteer network, Boston Cares is excited to participate in Points of Light's month-long celebration of service! Join us in April as we recognize our community of volunteers and the local Boston neighborhoods and communities we serve every day. To celebrate another year of outstanding service, we will be hosting a special event at the end of April when our most dedicated, enthusiastic volunteers will be honored with our annual Service Awards and have an opportunity with fellow volunteers, community partners, and members to connect and share inspiring stories of service.
---
Spring into Service!
Boston Cares 2023 Global Volunteer Month Celebration
Saturday, April 22, 2:00 PM - 4:00 PM - rain or shine!
at All Dorchester Sports & Leadership
Join Boston Cares and 250+ attendees in celebration of volunteers and community with food, games, music, and more! New Volunteer Orientations will be available to join Boston Cares and learn more about local nonprofits seeking and offering services.
---
2023 Volunteer Service Award Honorees
Check back soon for our list of 2023 Volunteer Service Award recipients!
---
Thank You to Boston Cares Global Volunteer Month Sponsors!