Awards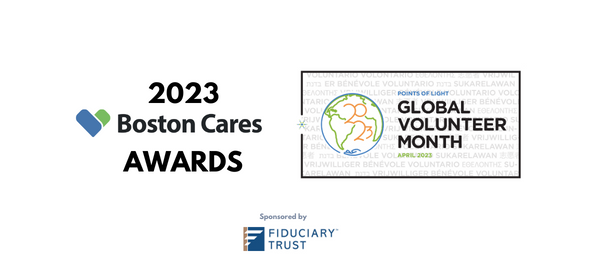 Global Volunteer Month 2023!
Spring into Service this April with Boston Cares for Global Volunteer Month 2023! As a long-time leader in their global volunteer network, Boston Cares is excited to participate in Points of Light's month-long celebration of service! Join us in April as we recognize our community of volunteers and the local Boston neighborhoods and communities we serve every day. To celebrate another year of outstanding service, we will be hosting a special event at the end of April when our most dedicated, enthusiastic volunteers will be honored with our annual Service Awards and have an opportunity with fellow volunteers, community partners, and members to connect and share inspiring stories of service.
---
Spring into Service!
Boston Cares 2023 Global Volunteer Month Celebration
Saturday, April 22, 2:00 PM - 4:00 PM - rain or shine!
at All Dorchester Sports & Leadership
Join Boston Cares and 250+ attendees in celebration of volunteers and community with food, games, music, and more! New Volunteer Orientations will be available to join Boston Cares and learn more about local nonprofits seeking and offering services.
---
2023 Volunteer Service Award Honorees
Outstanding Volunteer Service
Spencer Gary
Ethel Holtzclaw
KP Sompally
President's Volunteer Service & Boston Cares Service Champion Awards
Gold
Silver
Nicolas Altekruse
Dave Boudreau
William Duncan
Remy Frisch
Kaija Hornburg

Nina Kalluri
Colleen Kleinschmidt
Ryan Li
Hazel Margaris
Philippe Mauldin
Jennifer Mehl
Betty Nguyen
Matt Ng
Payal Salsburg
Eva Linde Soerensen
Pritam Sompally

Bronze
Maria Isabel Aldaz
Jessica Akers
Kayla Boer
Jeff Bowdish
Heidi Chandonnet
Erin Curtis
Daniel Dong
Anne Drolet
Yushentong Fang
Gregory Flaherty
Lindsey Flanagan
Haresh Gopalan
Joely Gubitosi
Josh Halpern
Ann Hargraves

Morgan Higgins
Ethel Holtzclaw
Xianbin Huang
Allison Kaminsky
Kavin Kannan

Saipragnesh Kantheti
Jessica Kealty
Jenny Keenan
Judith Kelly
Marjorie Keyser
Jim Klopper
Kai Kibilko
Paul Kimball
Elizabeth Kincannon
Jane Liberfarb
Shoumik Lodh

Maura Lonergan
Jack Martino
Jake Melanson
Carrie Mcguire
Neal Michaels
Fernando Munoz
Janice Neiman
Helene Olken
Joe Parrish
Alexis Perry
Cameron Picton
Sarah Potter
Mistchnache Prinston
Chris Radford
Jess Ruppert
Kaila Ryan
Lauren Savage
John Savoia
Leanne Smith
KP Sompally
John Sullivan
Hadley Swenson
Ngoc Vo
Erica Warner
Majie Welton
Jared Wilber
Jacquelyn Wolff
Rachel Quinn
The Welton Family
Diane Young
Gold Team Award - Allies for Immigrants
Jane Ansin
Scath Bogard
Anne Cullen
Silvia Cho
Marilyn Clark
Jim Dougherty
Abe Fleischer
Peter Forbes
Susan Gilman
Leonardo Gomez
Soroush Hajizadeh
Bonnie Hu
Isabella Izidoro
Andri Kadaifciu
Ana Montalvo Landivar
Kimberly McCollum
Aahan Mehra
Liza Mathews
Jill Miller
Keishi Nambara
Kimberly O'Donnell
Trish O'Hare
Maame Opare-Addo
Alexis Perry
Meghana Prabhu Bantwal
Jess del Rosario
Addison Sparks
Thais Simons
Anne Sullivan
Dilys Tan
Emma Takizawa
Thuc Nhan Tran
Xieying Wang
Katie Williams
---
Thank You to Boston Cares Global Volunteer Month Sponsors!